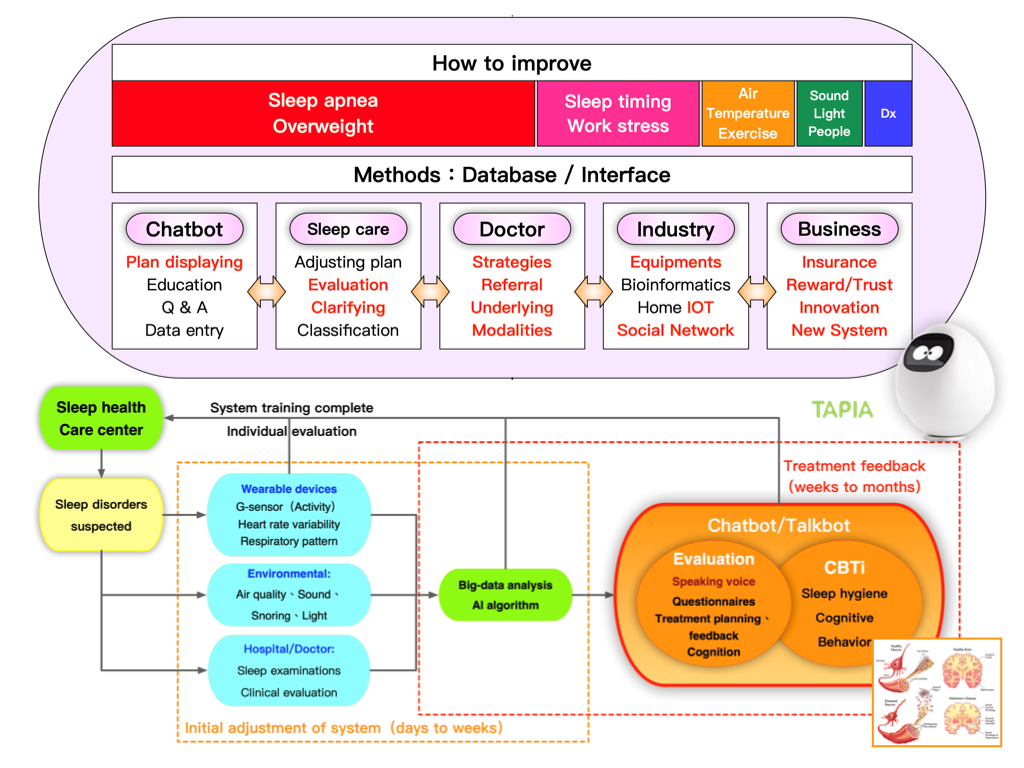 Summary
This study project is initiated by the sleep research center of Taipei Medical University (TMU) and started from the database of sleep examination from more than ten thousand patients.
By the cooperation with AI and statistic researchers to create the possible prediction model of sleep disorders and the improving strategies.
Study to analyze the relationship of physiological parameters, environmental factors and sleep quality including the in-lab sleep test results, physical activity of daily life by wearable devices, voice quality and neurocognitive function.
The patient's subjective and objective sleep quality will be recorded and analyzed and be integrated to develop a cognitive behavior therapy for patients with sleep disorders.

Applications
Integrating these results to build up a home-based prediction model and treatment strategies for sleep disorders.
Creating innovative model for medical service to provide longitudinal follow up and personalized care based on the data retrieved by wearable devices, home-based IoTs monitoring environmental factors and subjective interaction with chatting robots.
Business models by integrating medical service between different levels of clinical units, insurance plans and healthy behaviors.

Advantages
A team with multi-disciplinary specialists for sleep medicine to conduct high quality clinical researches for patients with sleep disorders.
Complete and continuously increasing database for data-mining to create prediction model for sleep related health technology and business.

Keywords
Sleep medicine, AI, wearable devices, CBT (cognitive behavior therapy), IoTs
◎

PI

PI

Wen-Te Liu

Associate Professor, School of Respiratory Therapy, TMU

Co-PI

Chuan Yi Tang

President, Providence University

Co-PI

Jyh-Shing Jang

Professor, Department of Computer Science and Information Engineering, NTU

Co-PI

Yuo-Hsien Shiau

Professor, Graduate Institute of Applied Physics, NCCU

Co-PI

Yu-Chuan Li

Professor, Graduate Institute of Biomedical Informatics, TMU

Co-PI

Ren-Guey Lee

Distinguished Professor, Department of Electronic Engineering, NTUT

Co-PI

Hui-Chun Chu

Associate Professor, Department of Computer Science and Information Management, SCU

Co-PI

Che-Lun Hung

Professor, Department of Computer Science and Communication Engineering, Providence University

Co-PI

Chien-Ming Yang

Professor, Department of Psychology, NCCU

Co-PI

Hsin-Chien Lee

Associate Professor, Department of Psychiatry, School of Medicine, College of Medicine, TMU